7 Best Social Media WordPress Plugins – 2021 Comparison
By Branko
2 years ago
2 Shares
When it comes to social media plugins for WordPress, it can be a little overwhelming to decide. Like most WordPress plugins, there are a lot of options available when it comes to social sharing. By the time you're finished with this article, hopefully, you'll be able to find the best social media WordPress plugin for your website.
What to consider when choosing a WordPress social media plugin?
There are so many great reasons to share your content on social media. No matter your business, if you want to grow sales and increase brand visibility, the chances are you've got an audience on some of the most popular networks. Having a powerful social media WordPress plugin is a must in today's world. Search engines pay attention to social signals as ranking factors, and you never know when the next big customer might stumble across your content.
Think through your social media workflow with your business. Do you have a company blog? Do you need social sharing icons on your posts? Do you want to auto-share your blog posts? Do you want to control how your content looks when it's shared?
It's important to understand your needs that are specific to your business when choosing your social sharing WordPress plugin.
Posting on social media is simple but can be time-consuming, especially if you love to create content. Crucially, people are conditioned against self-promotion. They expect you to think your own content is fantastic and to push it far and wide. When someone else shares your content, it's likely to have a far more significant impact – especially on people that have never heard of your brand before. 83% of people say they trust recommendations from friends and family, and there's no closer online equivalent to word of mouth than an unprompted social share.
So, it makes sense to make content on your website as easy to share as possible. The days of downloading social media network icons for each platform and linking to your profiles are gone. Your site has so much more to offer, and these are the best social media WordPress plugins that can make it happen.
1. Social Snap – The Best Social Media WordPress Plugin
With over 300,000+ professionals trusting Social Snap —there's a reason it's the #1 social media WordPress plugin.
An oversimplified view of social media means your content won't reach its full potential. Social Snap deserves the top spot because it provides everything you need to capitalize on your highest-quality content.
Sure, at the most basic level, Social Snap takes care of prominently displaying links to your social profiles anywhere you see fit. Visitors that want to find out more or join the discussion can do so from anywhere on your site with just a couple of clicks. However, everything else this plugin does beyond the basics really enables it to stand out.
From URL shortening to share counters and custom images to advanced statistics, this is the social media plugin to rule them all.
Standout Features
Support for over 30+ social networks
Complete control over where you place share buttons, including floating sidebars, on media, and shortcode insertion
A broad selection of button shapes and animations, straight out of the box
Scheduled posting and a social refresh on older content (PRO version)
Auto-post your blog posts (PRO version)
And more!
Control your Social Meta Data
You may be wondering what social metadata is. In short, it gives your complete control over the way your content looks when it's shared.
This means you can control things like:
Custom headline
Custom social media description
Custom tweet
Custom Pinterest description
Etc.
Share count recovery
This feature is a lifesaver for those that change the URL of the site. This could be as simple as moving from www to non-www. Or perhaps a sub-domain to a sub-directory. All of the history on your social sharing will disappear but the Social Snap will remember all of it and recover all of your social sharing history.
It's free to use + upgrade to PRO for more power.
Social Snap Lite is free to use and available from the WordPress plugin library. Paid plans featuring support for multiple sites and a whole host of add-ons start from $39 per year.
2. AddToAny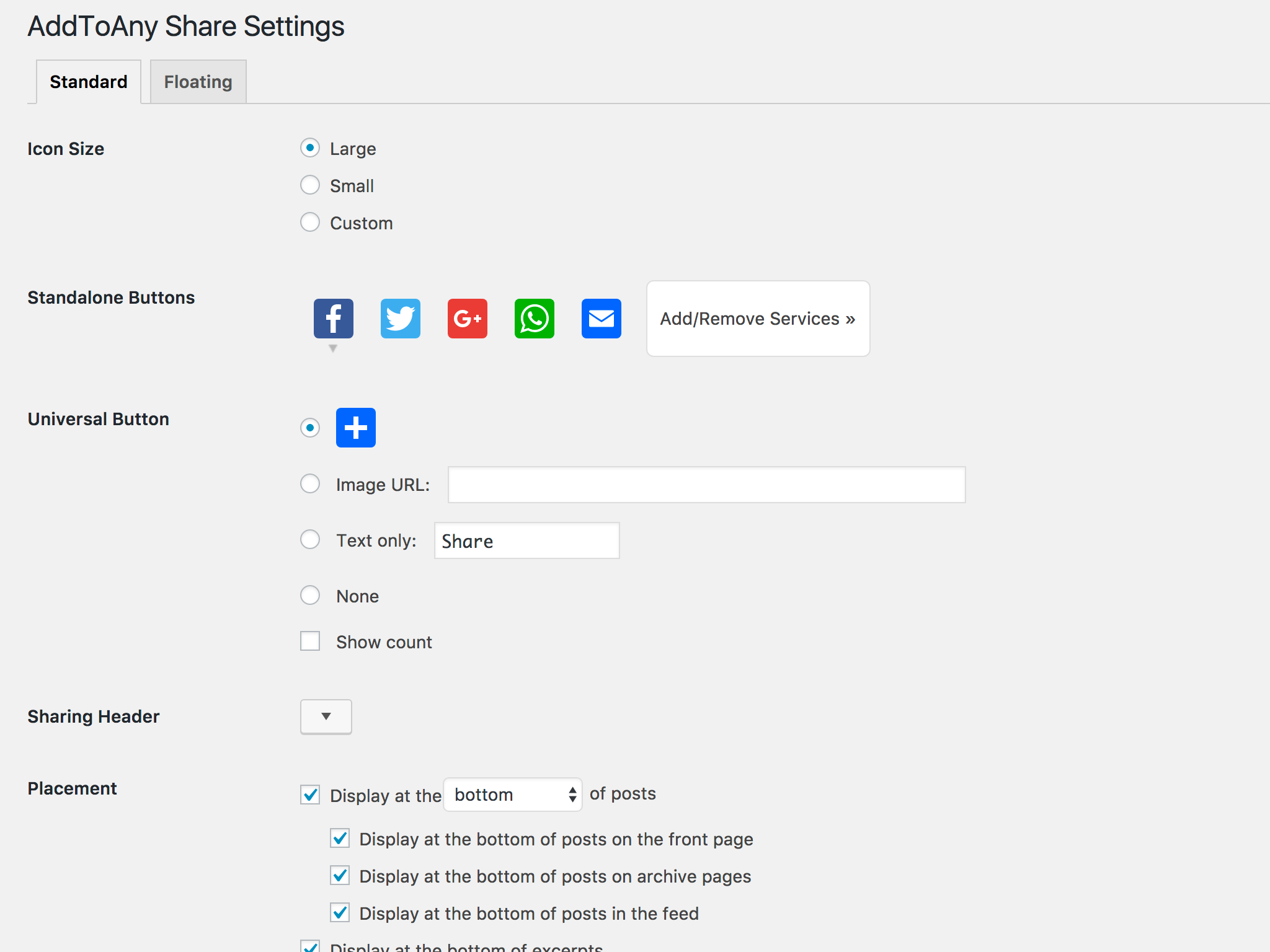 You may well remember the heyday of Digg, which was once one of the most important places to share new content before Reddit stole its thunder. While unrelated, it's that site that comes to mind when you see AddToAny for the first time.
In practical terms, this plugin makes it easy for content creators and visitors alike to share to over a hundred different platforms around the internet. Of course, it doesn't do a massive amount beyond that, but that can be beneficial too, especially for sites that are struggling to optimize page speed and are already bogged down by numerous plugins.
Standout Features
Share to over a hundred platforms using a universal '+' icon
Integrate with Google Analytics for a genuine overview of how content performs
Various positioning options and device-friendly share placements
Could it get any better than lightweight and straightforward? Yes, it could, and that's also reflected in the price. AddToAny is a free plugin, and it's available directly through WordPress itself.
3. Easy Social Sharing
Easy Social Sharing plugin provides you with an easy way to display various popular social share buttons. Also comes with Social Share count feature too.
It only includes up to 18 networks that you can display on your posts and pages. It also looks like you can change the layout and shape of the buttons on your site as well.
At the time of this post, the plugin was last updated 8+ months ago. You can check out the plugin on the WordPress repository.
4. Social Share Buttons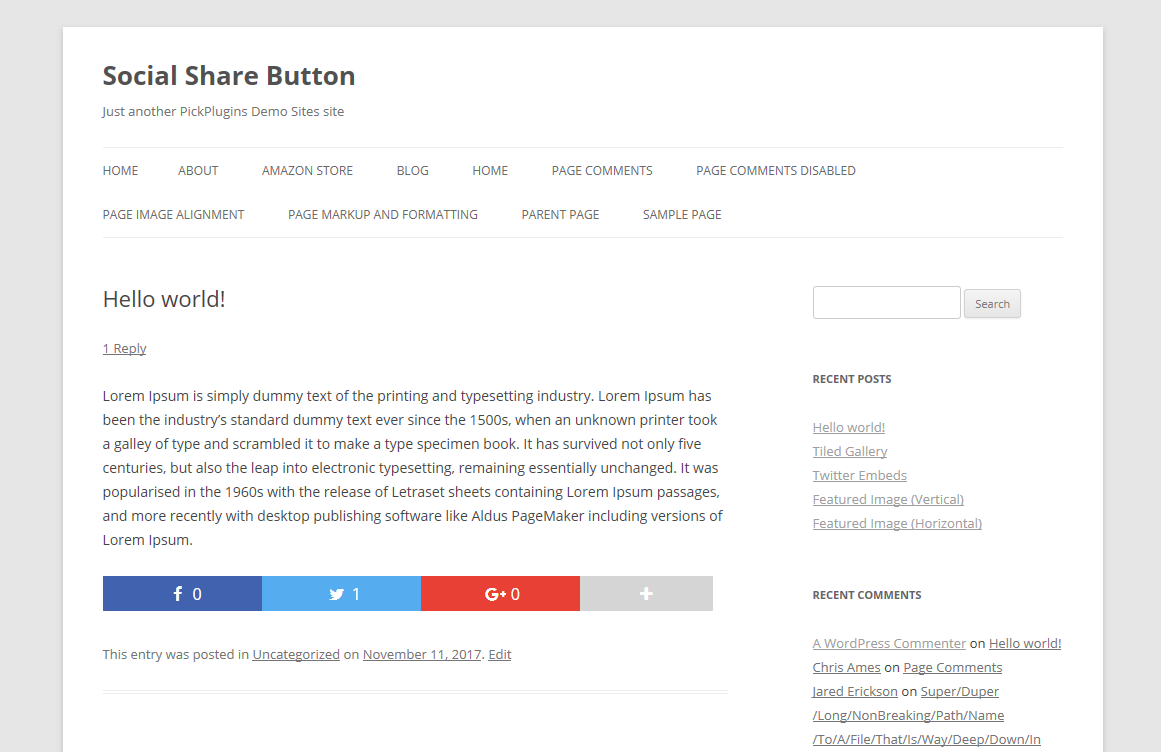 Displaying a social share button on your website is the most powerful way to boost your website traffic and visitors from social media sites, the best way to recommend website content to social media friends.
Styling and button layout feels much less limited than other plugins on the list but if you're after simplicity this may be the plugin you're looking for. You can find this plugin in the WordPress repository.
5. Shared Counts
Shared Counts is a WordPress social media share buttons plugin. Sharing buttons increase traffic and engagement by helping readers share your posts and pages with their friends on social media.
It also looks like you have the ability to style and change the layout of the buttons. You can choose before or after your content. Additionally, you have the ability to recover share counts as well.
You can check out the shared count's plugin in the WordPress repo.
Please note:
This plugin hasn't been tested with the latest 3 major releases of WordPress. It may no longer be maintained or supported and may have compatibility issues when used with more recent versions of WordPress.
6. Sassy Social Share
Sassy Social Share enables your website users to share the content over Facebook, Twitter, Google, Linkedin, Whatsapp, Tumblr, Pinterest, Reddit, Parler, Gab, and over 100 more social sharing and bookmarking services.
This is the simplest and the fastest Social Sharing plugin with optimized and great-looking vector icons.
Note: Plugin will not work on a local server. You should have an online website for the plugin to function properly.
7. Social Media Feather
WordPress Social Media Feather is a lightweight free social media WordPress plugin that allows you to quickly and painlessly add social sharing and following features to all your posts, pages, and custom post types.
The plugin supports adding social buttons for sharing or following (that is, social buttons that link to your social network profiles pages). The social media buttons can easily and automatically be added to all your posts, pages or any other custom post types.
WordPress Social Sharing Plugins – In Closing
What constitutes the best social sharing plugin for WordPress varies depending on what you want to achieve. Social Snap sits comfortably atop this list simply because it can do everything that the plugins below it can do and more. For anyone that wants to take social media seriously as part of their marketing plan, spanning individuals and businesses alike, it simply doesn't get any better.
For more tips on how to grow your twitter following, check out our guide.
The other selections come down to focusing on more specific elements of the social package. For fly-ins and popups, you can use some of the more basic plugins. Someone who wants simplicity and speed while also supporting even niche social networks will find what they need with AddToAny.
The diversity of plugins for every purpose imaginable is a significant part of why WordPress is the go-to platform for so many sites. There's no shortage of choice in the social media space. Unless you're antisocial and popular networks have no place in your business plan, these plugins will help ensure you save time and energy while taking your social success to a whole new level.
Written by Branko
Branko is the Co-Founder of Social Snap and HB-Themes. He focuses on pixel perfect design and frontend development.
Stay in the loop!
Sign up to receive emails for the latest Social Snap updates, features, and news.